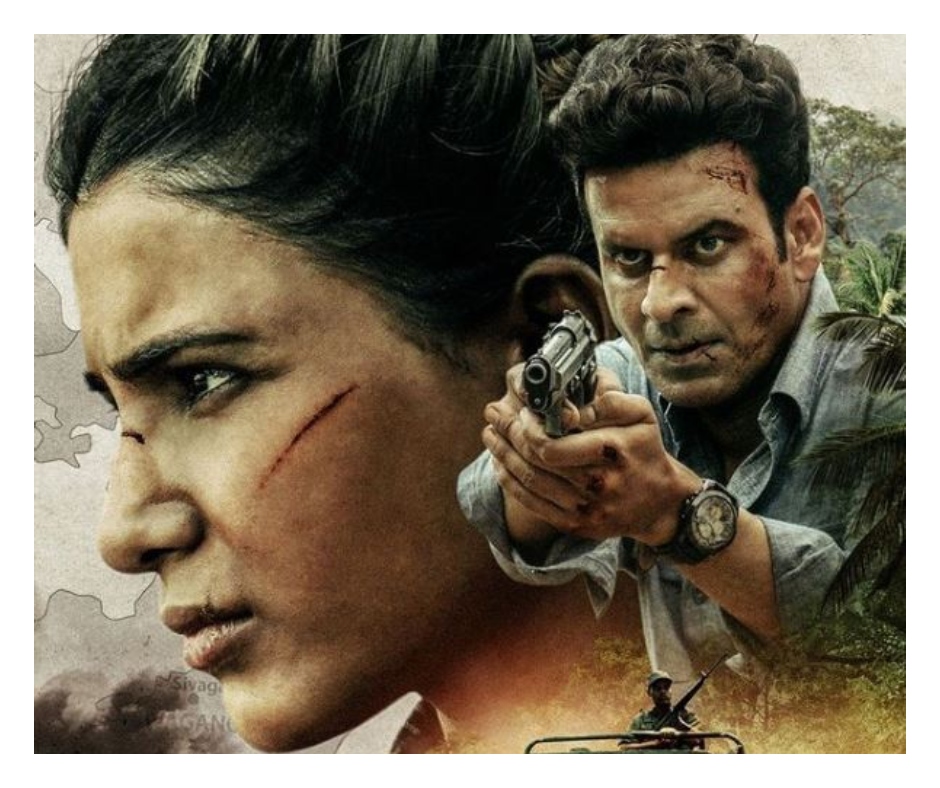 Picture Courtesy – Jagran
The Family Man is one series that left me confused about its genre, the first time I watched it. Mostly categorized as Action-Thriller/Comedy, I found it to be a palpable family drama also. In a nutshell, it fitted in all categories and in the most seamless way possible. From the 13 minutes, long shot of the hospital assault sequence quenching my thriller fangirl thirst to an almost broken marriage of Srikant and his wife providing a perfect family drama feels, this show was a slow-brewed wonder. I immediately added it to my list of favourite Indian shows and waited for the next season.
Plot
After almost two years of waiting, season 2 released, and thankfully makers Raj Nidimoru and Krishna D.K don't disappoint. We meet our espionage, Srikant Tiwari, not in a conference room or desk at the TASC or Threat Analysis and Surveillance Cell office of NIA (National Investigative Agency) but at an IT company. Not this is not his coverup job, this is what he is doing full-time now. He is finally The Family Man. But Srikant's heart still beats for the adrenaline rush of his life as an agent. He calls his friend JK for lunch meets just to hear about what is going on with TASC and in turn of events goes back to where he really belongs to meet his new nemesis in Samantha. 
Season 2 has most of its plot characters as Tamilians and have (thank god!) kept their part of the dialogues in Tamil, which felt more realistic when though I was rushing my eyes through the subtitles during those scenes. The plot, this time focuses on how politics becomes greater than human lives for leaders who run nations and how officers are thus forced to keep their duties on a higher shelf than ideologies. The series does question who should we see as wrong and who would be on the side of righteousness, something we see officer Milind asking JK in a scene. Season 2 delves into the villains' lives and questions us if their ideologies are villainous or is it just their execution of rebellion. Executing the mastermind rebel leader's plan is a proselytized militant Raji played by a surprisingly-but-superbly cast Samantha. Raji, a tormented yet composed soul, is ferocious on the inside from the horrors left from her past is now going to stop at nothing till she assassinates the Prime Minister of India. While Srikant faces a nemesis in this fierce woman, he faces a personal threat from old enemy Sajid.
Among the maddening chaos of the Srikant's mission the scenes with his family at the dinner table, comic scenes between TASC officers from Mumbai and Chennai due to language and cultural barriers, Srikant's struggle with his marriage as he googles the word 'Sham' when his wife labels their marriage as one and talking about breaks after 16 years of married life brings back the all-genre qualities of its predecessor. 
Cast
Picture Courtesy – Amazon Prime Video
Not starting with the main man as I was eager to write this part and applaud an unapologetically stellar performance by Samantha as Raji. As much as I hate her overly browned out makeup and found it awfully distracting, the actress managed to keep me hooked on her expressions through her eyes as it reflected the agonized past of the woman while her face stayed as calm as a millpond. Brainwashed and made to think she is in the path of righteousness, Raji feels she is the hero of her story, and thus her life will be martyred when she gives her life for her rebellion's cause. The scenes where Samantha switches Raji from a shy and modest woman into a merciless killer is what has all my praises. Samantha perfectly crafts Raji and makes her the perfect textbook villain one feels terrified of.  
Picture Courtesy – Amazon Prime Video
One thing that makes Srikant stand part is his character is no James Bond. He breaks the idea of espionage with guns, gadgets, women, and drinks, and makes it more real. Manoj Bajpayee, yet again gives us the Srikant in all its blood and bones, a man who is torn between his responsibilities towards his country and family. A man who though is a spy and thus supposed to be cool, makes kids feel awkward as he asks meanings of millennial words such as 'feminazi'. He is the man who gets overpowered by his pre-teen son's demands but has complete control and emerges as the 'man-with-a-plan' while he is on his mission. Bajpayee makes one feel that the role would not have been cast any better as he changes his shades from emotional to funny to angry or heartbroken.
The rest of the usual cast was as usual good and kept the essence intact. I loved Sharib Hashmi reprising the role of JK Talpade, the constant companion of Srikant through his missions of TASC and life. He has again provided me with some of the best comic scenes of this season, especially his struggles with Tamil when he arrives in Chennai. Priyamani as Srikant's wife spills the emotional turbulence of her relationship as she reels between the counselor's chamber and home. She struggles with her relationship as much as she struggles with her own place in the world and seeks it again through work and Arvind. 
Thus, standing at 9 episodes of almost an hour each, season 2 of The Family Man again treats its audience as a slow but perfectly brewed entertainment that starts to pick up the adrenaline rush after the first 3 episodes. This time it gets a lot more personal for Srikant and he has a lot at stake. Also, from personal I just got reminded of something, that I was seeking an answer to at the beginning of this season,
"WHAT ON EARTH HAPPENED IN LONAVALA?"
If you liked this review, do support The Siyahi Columns by following on social media platforms (Also, drop a hi if you want!). We have various other reviews on our website. We also dissect various social evils and support some social causes too!