Plot
A Divisional Forest Officer faces a classic man vs wild situation when a tigress starts attacking a village that comes under the vicinity of the forest she has been appointed as in-charge. That's it! 
No Drama or overly-shown conflicts, still this movie woke up the once zoologist that had long fallen asleep in me. Why did this movie feel personal? Maybe because I wanted to get into wildlife conservation more than anything at that point in my life. OK, enough talk! Time to dig into the movie. 
Amit Masurkar is back with another righteous government official who fights unapologetically to mend a broken system functioning far away from the crowds. As Vidya Vincent works relentlessly to alleviate the fear off villager's hearts and keep them safe, she finds herself trapped in a dirty game orchestrated by politicians, chauvinistic hunters, and corrupted forest officials. From the beginning of the movie, Amit makes us aware of the conditions of the forest which apparently has been in the hands of us humans and thus been stripped of its natural belongings. Be it dried-up watering holes or huge mining dugouts, it is us who invaded the wild's home.
To add to this, we see political parties brainwashing the villagers in every possible way to win in the upcoming elections. "Khoon ka badla Khoon se lenge", is what you see these people shouting out while talking about the wild female. Despite these constant obstacles coming her way, all she worries about is T12, the female feline on the run, and how she can get her to the near national park in safety while ensuring she doesn't feel threatened by villagers and attack them. A woman of fewer words, it's her actions that speak volumes of her diligence towards her work. Her field is full of men portraying deep-rooted patriarchy, mansplaining through her every moves. She finds her true companion in a professor of Zoology (played to perfection by Vijay Raaz) who teaches at a nearby college and has his heart set in the conservation of the wild. 
Running at 2 hours 10 minutes, the movie is concise and provokes some of the most important questions urbanites to ask about human-animal conflict. It answers why an animal might attack humans and who is at fault for this act. At times it's not the predator or the prey, it's people who deem themselves as the protector of the society that let these tragedies happen for their benefit.
Named Sherni, the movie gives us tigress protecting her cubs silently in the forest while trying to find her way back to a safe haven and another tigress of human in Vidya who is silently fighting a battle of virtues that has been bestowed on her. 
Cast
No complaints! Undoubtedly one of the best castings I have seen this year from Bollywood, this was a dream team. 
Bansilal Bansal, a bureaucratic personality and Vidya's superior, who looks for opportunities to leave his problems behind and provides some most hilarious scenes of the movie has been portrayed brilliantly by Brijendra Kala. Vijay Raaz as Hasan Noorani, a zoologist, and expert in moth studies, stands tall as a character that provides the audience the answer to their man vs wild questions. His portrayal of a conservationist at heart with the brains of a scientist surely stirred up the zoologist in me, especially, whenever he asked for DNA test sampling permission at the site of kills.
Neeraj Kabi has a small and well serious 'Neeraj Kabi'-ish role to which he does complete justice. Sharat Saxena does justice to his role as Ranjan Rajhans, an egoistic male chauvinist hunter who drunken by his money and power doesn't care or see anyone's opinion and behaves like a typical know-it-all in the room. A special mention goes to Sampa Mandal as Jyoti, a village woman who stands up her people and heads the village committee. Though she had substance in her role and directed an important plot-changing scene, I felt the plot could have used her presence a bit more. Ila Arun provides some light-hearted scenes as Vidya's North-Indian mother-in-law who though loves her for who she is also reminds the audience of societal expectations and everyday sexism.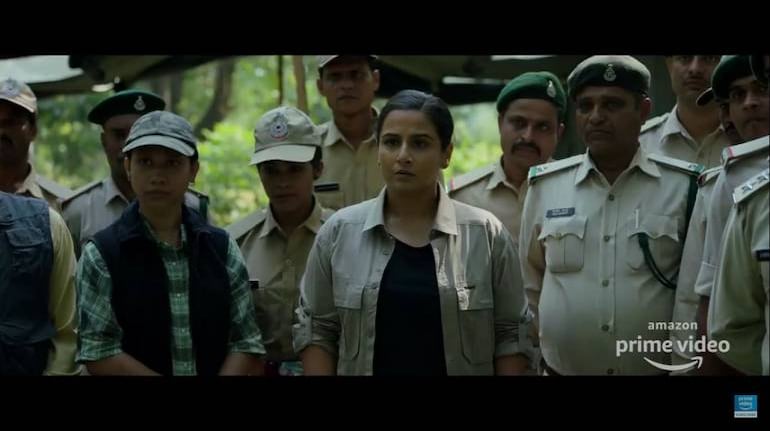 Now coming to the main woman of the show, the Sherni herself, Vidya Balan. Have been a fan of this woman for years now, especially because of all the power and exuberance she brings to the screen. Except for this time, there was no exuberance although there was a power that roared louder through her silence and those eyes that stared at those men while they mansplained her and did everything to stop her. Though we don't come to know how Vidya Vincent became this quiet woman which she describes herself as someone she was not back in college, Balan's strong portrayal from the beginning lets us become a part of Vincent's years of struggle in the system and despair as a result of it can be a reason for her quiet nature.
Shoutouts
Coming to the shoutout part, a huge one goes to Masurkar & Co for bringing an environmental thriller to Bollywood, something we needed long back. Another shoutout to Aastha Tiku for her screenplay which gave us a Malayali Christian and Muslim professor working together with the same principles and morals of saving a life that does not symbolize any religion. Though Vidya's or Hasan's religion does not hold any purpose in the plot, the fact that all religions exist and are at the end of the day holds empathy for life is what personally struck me in the movie. I was happy to watch this duo at a time when my country is ravaged by religious fundamentalism, islamophobia, and intolerance. Rakesh Haridas' brilliant cinematography and Anish John's meticulously crafted sound design sets the mood for the film. 
Sherni thus unapologetically proves to be a winner with a winning team of makers and exquisite cast though being shot majorly in the silence of the forests of Madhya Pradesh without much drama, unlike what Bollywood asks for.
You can watch this movie on Amazon Prime.
---
Read More: Amazon Prime's The Family Man 2: This time Manoj Bajpayee had to share his limelight with Samantha