"One is not born, but rather becomes, a woman."
An existentialist philosopher who influenced early feminist theory wrote this famous line which
later on became a flagbearer of feminist protests. de Beauvoir argued that the very concept of
'woman', is a male concept. Hence, a woman is always 'other' because the male is the 'seer'.
While the male is always the subject, the woman is always reduced to being the object – the
meaning of what it is to be a woman is given by men.
I found de Beauvoir's name coming up on my screen while I searched the true meaning of
feminism, about 5 years back. I was in college and I heard the word feminism and it is called
a 'wave'. I found myself in a dilemma because I did not know what feminism truly meant
and what it exactly stands for. I read a bit here and there, and the topic grabbed my interest and
I decided to grab The Second Sex, the bible book of feminism. Soon I found out it was an 850
page book and it broke my bubble of interest towards the book. I was not into that much serious
reading back then. I grabbed an excerpted copy of the book but got hooked onto it and completed
it in one seating. And I ended up forgetting about it. Over the years, as I started staying alone
and started becoming, well independent, bit by bit, I started to understand what feminist writers
and works precisely meant. And a few months back, finally, I got my hands on the feminist bible
and decided to give it a shot. And boy! Oh boy! It truly is what they call it. Fascinated, I lost
myself in de Beauvoir's life.
Born in the year 1908 to a bourgeois Parisian family, de Beauvoir became the youngest person
to pass the agrégation in Philosophy from the renowned École Normale Supérieure, at the age of
21. But as soon as she mastered philosophy, she wanted to change them. Her unquenchable
desire to dive into the physical shaped her life and inspired radical new philosophies.
Her revolutionary magnum opus, The Second Sex, published in two volumes in 1949,
immediately found both an eager audience and harsh critics. She penned down systematic
treatments of the oppression of women both historically and in the modern age which was
unheard of before. Her work spun around the idea that woman has been held in a relationship of
long-standing oppression to man through her relegation to being man's "Other." Her
investigations showed men have been privileged with expressing transcendence through
projects, whereas women were always forced into the mundane life of immanence. She
continuously questioned a woman's freedom being restricted by society's ideals of
womanhood. This was something, she, as a woman, faced in society too. Despite her prolific
writing, activism, and teaching, de Beauvoir was never taken seriously by her male peers. While
she struggled to thrive in society by rejecting a lifestyle of marital bliss, she felt that these
freedoms came to her male counterparts easily and they rather took them for granted. They
showed no interest in de Beauvoir's life which delved deep into women's lives, along with her
bisexuality and openness to relationships.
Her book, Second Sex, was influenced by her debates with her intellectual and romantic
partner, Jean-Paul Sartre, as the book delved into the subject of existentialism and explored the
idea of free will, desire, the value of personal experiences, rights, and responsibilities. Thus, her
book strongly stated that like our lives, our gender isn't predestined. Thus, she stated, "One is
not born, but rather becomes, a woman.". She argued the process of "Other"-ing was
associated with labeling women as lesser sex than men and systematically restricting women
from pursuing a life of free will. She detailed oppression on women through different instances
from history, anecdotal testimony, and mythology in the book. Her book soon became the
language for feminist theories. Feminist treatises expanded and more and more theories were
formed, for which, her book became a foundational work.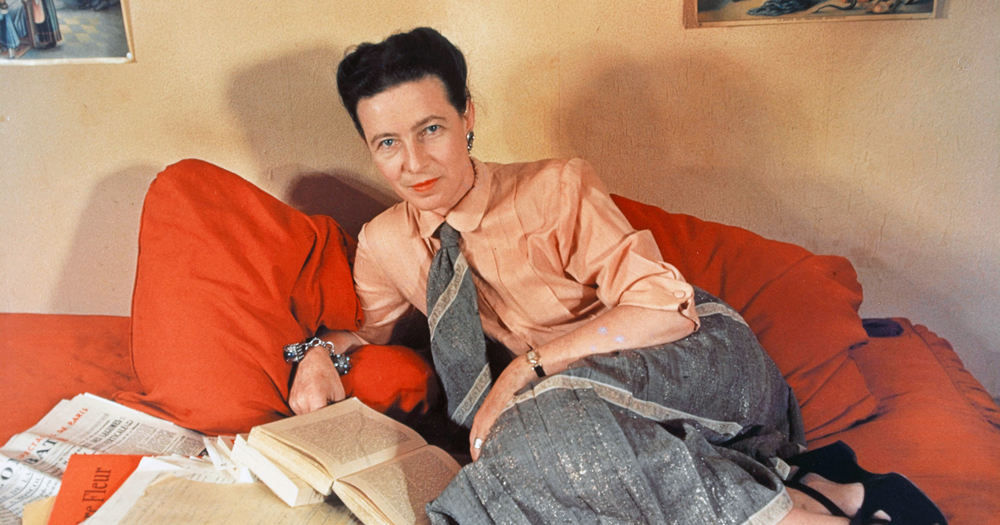 The few sides that de Beauvoir failed to acknowledge in her work were racial identity, economic
identity, along gender and sexual identities. Despite the accusations of sexual misconduct,
her students reported against her, de Beauvoir though left her life of teaching, continued her
writing life by creating noteworthy pieces of fiction, philosophy, and memoirs.
de Beauvoir wrote till her last days and passed away in 1986. Even today, her work is followed
and used for rebelling against our still-existing patriarchal society. Her work still provides a
language of protest for revolutionary feminist thinkers across borders.